AAUW is a national organization that offers friendship with like-minded people and an arena for making a positive contribution in your community. Membership is open to all people who hold an associate degree or higher and an interest in advancing equity for women and girls through advocacy, education, philanthropy, and research.

Value Promise
By joining AAUW, you belong to a community that breaks through educational and economic barriers so that all women and girls have a fair chance.
Vision Statement
AAUW empowers all women and girls to reach their highest potential.
---
Santa Barbara County 3rd District Supervisor Candidates Forum
When: January 16, 2020
Time: 6 – 8 pm
Location: Providence Landing Clubhouse
(South Vandenberg Village)
699 Mercury Ave – Lompoc, CA
Meet the candidates and learn more about the issues in the 3rd District of the County of Santa Barbara, comprising UCSB, Isla Vista, Western Goleta, the Gaviota Coast, the Santa Ynez Valley, the unincorporated parts of Lompoc, Mission Hills, Vandenberg Village, Casmalia, Tanglewood and the City of Guadalupe.
RSVP to lompocvandenberg-ca@aauw.net or call  805-588-2916 (Pam B.)
Stay tuned for more details on the venue. Thank you.
---
Program Planning Meeting for 2019-2020
Date: Saturday, June 22, 2019
Time: 09:00 am – 11:30 am
Location: Valley of the Flowers Church of Christ, 3346 Constellation Rd. in Vandenberg Village
Breakfast provided by the Board.
Please RSVP by June 20 to lompocvandenberg-ca@aauw.net
Please join us for breakfast at 9 am followed by a brainstorming session to set goals and plans for the new 2019-20 AAUW year. Dianne Owens will facilitate the interactive and creative morning activity.
---
Brunch with Sen. Hannah-Beth Jackson
Join us in celebrating Women's History Month with Sen. Jackson, currently serving in the California State Senate. She represents the 19th Senate District, encompassing Santa Barbara County and most of Ventura County.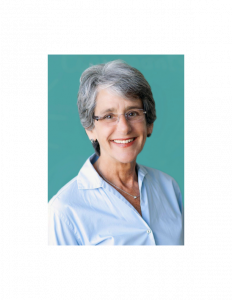 When: Saturday, March 30, 2019 at 10:00 am
Where: Sage Restaurant, 4300 Clubhouse Rd, Lompoc, CA
RSVP by March 23rd to lompocvandenberg-ca@aauw.net or 805-588-2916.
Brunch is $25. Please mail checks to:
Lompoc-Vandenberg Branch AAUW
P.O. Box 2523, Lompoc, CA 93438
---
Tech Trek Fundraiser
Please join us on Saturday, March 16th from 8 am to 10 am at Applebee's in Lompoc for our annual Flapjack Fundraiser!
Tickets are $10, sold at the door.
Help local students attend Tech Trek camps at UCSB during the summer!
---

Annual Speech Trek Contest
Our branch will host its second Speech Trek contest on Feb. 8, 2019, at 4 pm. Members and the community are invited to the Lompoc City Hall to listen to what our high school students have to say on the issue of violence aimed at our schools.
The 2018-2019 Speech Trek topic is: "How can we – students, parents, faculty, our communities and organizations such as AAUW – eliminate violence aimed at our schools? What actions can we take to prevent another tragedy from taking place?"
Prizes will be awarded to the top 3 speeches by a panel of community leaders. The video of the top speech from this area will go on to be entered in the AAUW state level competition.
---
International Program – January 11, 2019
Join us on Friday, January 11, 2019, as we ring in the new year with our International Program featuring a potluck and a presentation on Greece.
Potluck dinner will begin at 6 pm at the Valley of the Flowers Church, 3346 Constellation Road, South Vandenberg Village.  A short business meeting will follow dinner.  After that, our member Kari will facilitate a slide show and discussion about her trip to Greece last summer.
The public and prospective members are invited to join us for dinner and the program. Reservations should be made by e-mailing lompocvandenberg-ca@aauw.net or by calling 805-.588-2916.
---
November 2018 Program
Our next general meeting is scheduled for November 27 at 6:30 pm, followed by a presentation by Lompoc's 2018 Woman of the Year Ann McCarty, Executive Director of The North County Rape Crisis and Child Protection Center.
The community is invited to the program which will be held at Valley of the Flowers Church of Christ, 3346 Constellation Road, Lompoc.
Ann McCarty will share information on the work of the Center, and present information to elevate awareness of local incidences of child abuse, sexual assaults, human trafficking, and the support services that are available for survivors.  Attendees will learn of opportunities regarding training to be a volunteer with the Center, which provides education, crisis hotline assistance, and advocacy.
---
October 2018 Fundraiser
Join us at Wild West Pizza and support AAUW Lompoc-Vandenberg. We will receive 50% of the proceeds from regularly priced pizza purchases. Just mention AAUW while ordering!
The proceeds will go to AAUW programmatic fund which supports Tech Trek, Scholarship and Speech Trek. Advancing Equity for Women and Girls for over 50 years in Lompoc-Vandenberg.
There will also be a bake sale until sold out.
https://www.facebook.com/events/347387705829547/
---
October 2018 Program: Intersectionality 
Our October 16th meeting and program will be held at 6:30 pm at the Lompoc Library, Grossman Gallery, 501 E. North Avenue. Our keynote speaker, Dr. Lata Murti, is Associate Professor of Sociology at Brandman University and she will discuss Intersectionality: What Is It? And Why Does It Matter to All of Us?
Dr. Murti will enrich our understanding of how gender connects with other aspects of our lives. "Come learn how we don't just experience the world as women and men, but instead how gender identities intersect with many other identities to shape our lives".
Dr. Murti was the recipient of Brandman University's 2015 Outstanding University Faculty of the Year Award, she has received recognition for both her pedagogy and her publications from various organizations. She has presented at numerous conferences related to teaching and sociology, in addition to publishing on Asian American Society.  Proficient in Spanish and a former elementary and middle-school Spanish teacher, she also has many years of experience mentoring students of all ages.
The Community is invited.
---
The Community is Invited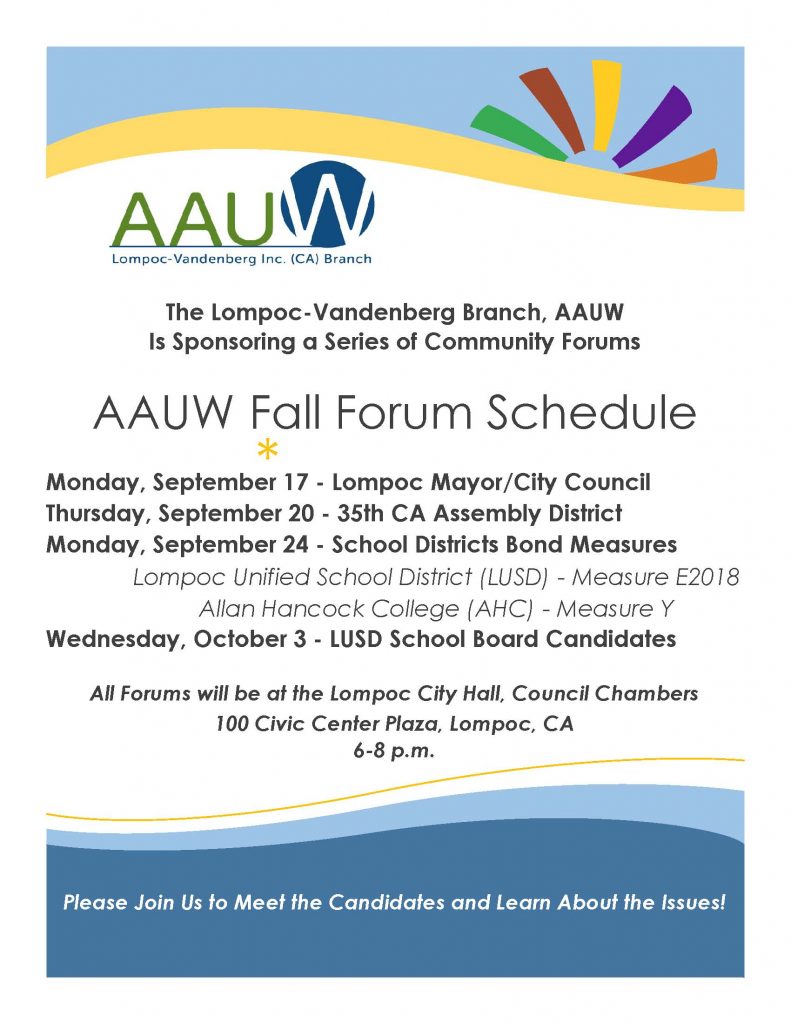 ---
August 2018 Program: VAFB Women-led InSight Launch Team & Tech Trek Campers
On August 25, our branch will host a special presentation by the women-led team responsible for the spectacular May 5th, 2018, early morning launch of NASA's InSight spacecraft on its Mission to Mars.
The VAFB team will share perspectives about their roles in launching InSight and their personal journeys, which led them to careers in Science, Technology, Engineering and Math (STEM).
Along with AAUW members, special guests at this inspirational program will be young women from AAUW Tech Trek, a science and math camp designed to develop interest, excitement and self-confidence in young women who will enter eighth grade in the fall.
This program will include lunch and will be held at the Lompoc Library, Grossman Gallery from 10am to 1pm. Charge for the lunch will be $8.00 and reservations need to be made with Lucy Thoms-Harrington at 805-729-7951 or email  lth.terralink@gmail.com by Aug 23.
---